ART & WINE
Since 1980 the labels of our grand cru Berg Schlossberg have been created by artists from all over the world.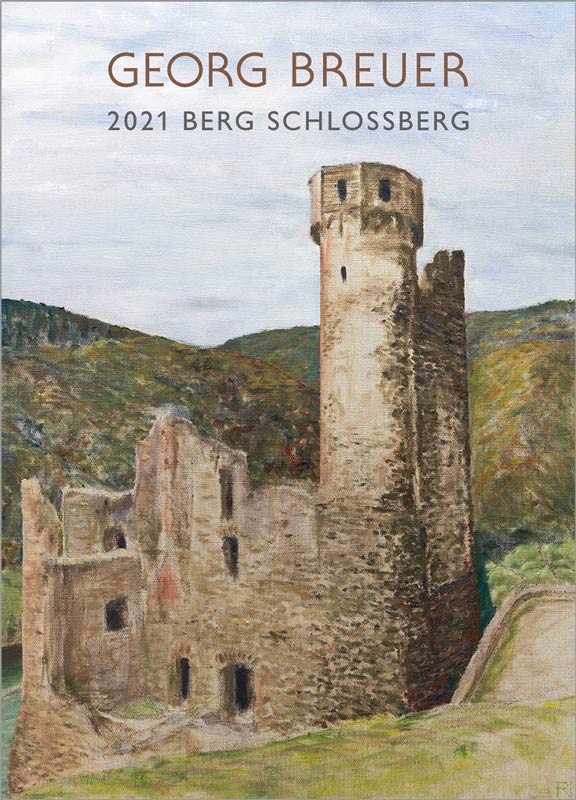 VINTAGE

2021

Rudolf Nordström

born 1990 in Stockholm

Rudolf Nordström has a special bond to the tradition of Berg Schlossberg artist labels: his father Jockum Nordström was responsible for the label of the 2004 Berg Schlossberg, and Karin Mamma Andersson, Rudolf's mother, developed the label design for the 2014 Berg Schlossberg. Committed to the tradition of classical landscape painting en plein air, he brings together in his painting the visual impression of the single vineyard site as well as the sensory impulses of the associated wine.
VINTAGE

2020

Paula Stein

born 1993 in Mainz

Paula Stein's drawings are characterised by the juxtaposition of detailed ink drawings and two-dimensional, often somewhat coarser structures, patterns and backgrounds. In her depiction of a gnarled old grapevine made for Berg Schlossberg, Paula Stein concentrates on drawing: mountains pile up, landscapes fold and unfold, associations of the river flowing at the foot of the Rheingau vineyards and the terraced vineyards of the Rüdesheimer Berg are evoked in the tossed-about, but at the same time well planned conglomeration of looping lines.
VINTAGE

2019

Gerrit Frohne-Brinkmann

born 1990 in Friesoythe

Gerrit Frohne-Brinkmann, whose cross-media artistic work balances on the brink of a clash between (alleged) high and entertainment culture, refers in his realization of the label for the 2019 Berg Schlossberg to the Ehrenfels castle ruins (located within the famous vineyard site), which he intertwines with the imposing castle complex of some theme park. Frohne-Brinkmann invites us to participate in the confusion of truth and fiction, authenticity, memory, suggestion and atmosphere, participation and imagination.
VINTAGE

2018

Pietari Posti

born 1979 in Helsinki, Sweden

Pietari Posti feels inspired by the beauty of nature and its creation of the female form. His work that comprises illustrations for posters, book covers, packagings and adver­tising campaigns celebrates the beauty of the world by simpli­fying it down to clean lines and crisp, bold shapes.

Within the label of the 2018 Berg Schlossberg Posti refers to the bold round shapes of the Rüdesheim hills and the Rhine river beautifully flowing below. The gigantic foot gently laying over the hill represents the people, work and care behind the wine as well as the tradition and the future of the Georg Breuer wines.
VINTAGE

2017

Friedrich Gobbesso

born 1980 in Berlin

Friedrich Gobbesso's artistic work includes sculp­tures, instal­lations, prints and photo­graphy; the play­ful experi­ment and its incalcul­able result, curiosity with regard to the detail and the visuali­sation of hid­den aesthetics form the heart of Fried­rich Gob­besso's artistic work.

The label of the 2017 Berg Schloss­berg shows a moiré effect: the neatly arranged pattern of vine­yard rows inter­twine in the moiré – the supposedly simple display of lines meanders between flat imagery and physically moved scenic values.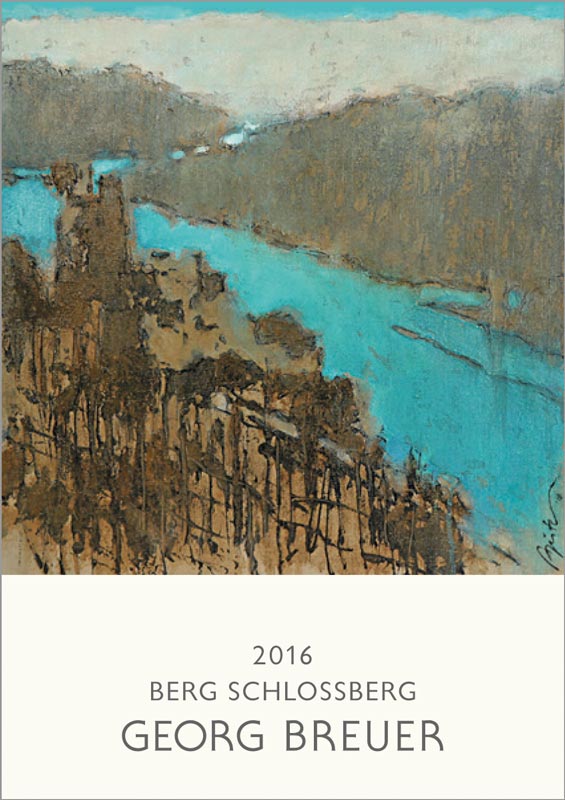 VINTAGE

2016

Michael Apitz

born 1965 in Eltville in the Rheingau

Michael Apitz' artistic oeuvre shows, in his paintings as well as in the multi­tude of comics he created, a deep connection to the Rheingau: with the wine comic books "KARL, der Spätlesereiter" (since 1988) he graphically developed a "German Asterix" that communi­cates the Rhein­gau wine history very enter­tain­ingly and helped his authors to supra­regional popularity. Also the paintings that Apitz created parallel to his work as comic illus­trator and carica­turist deal with the land­scape of the Rheingau and the Middle Rhine Valley that reaches from Rüdes­heim to Koblenz. Michael Apitz conse­crates to the motivic focus of vineyards and the river Rhine and explores these elements by them­selves and in combination in various correlations of color.
VINTAGE

2015

Mikhail Smirnov

born 1951 in St. Petersburg, Russia

Educated at the St. Petersburg Academy of Arts, Mikhail Smirnov deals with mythological and philosophical subjects and deliberates on psychological and convictional matters of mankind.

For our 2015 Berg Schlossberg Smirnov created the painting "Flights in sleep" that reflects the force fields of gravitation and imagination – using the vineyards of Rüdesheim as lyrical backdrop.
VINTAGE

2014

Karin Mamma Andersson

born 1962 in Luleå, Sweden

Karin Mamma Andersson is one of the most outstanding contemporary scandinavian artists.

Her artistic oeuvre is characterized by its almost exclusive and therefore complex commitment to painting: the allusive settings and emotionally charged scenarios Andersson creates in her works ladle from the recourse to a wide arsenal of varying painting techniques.

For the label of the 2014 Berg Schlossberg Andersson created a woodcut showing a "german hare" that in the artist's imagination sits high upon the mountain looking down at the vineyards of Rüdesheim.
VINTAGE

2013

Synøve Dyrkorn

born 1966 in Oslo, Norway

Dyrkorn is strongly influenced by the diversity and rhythm of nature's organic forms and she is particularly interested in the gatherings of strength and fragility, of rigidity and lightness; she translates experiences, sen­sa­tions and impressions into mean­dering fields and streams of colour that generate new and subtle spheres when overlapping.

The painting Synøve Dyrkorn developed for the 2013 Berg Schlossberg emerges from her visit to Rüdesheim.
VINTAGE

2012

Maria Grocholska-Mielzynska

born 1970 in Warsaw, Poland

She finds her main topics and motifs in the correlation of the individual, the surrounding space, simplest actions and emerging emotions.

In her work for the Berg Schlossberg 2012 she further­more merges the pecularities of the traditional etching technique and the traces of a vintner's work over the course of the year(s).
VINTAGE

2011

Linda McCue

born 1964 in Toronto, Canada

The drawings and paintings of Linda McCue impress with a quiet, delicate and at the same time all-embracing complexity. Merging contrasts through content and medium, McCue creates a co-existence of the various elements in her pictures, which flicker between illusion and reality.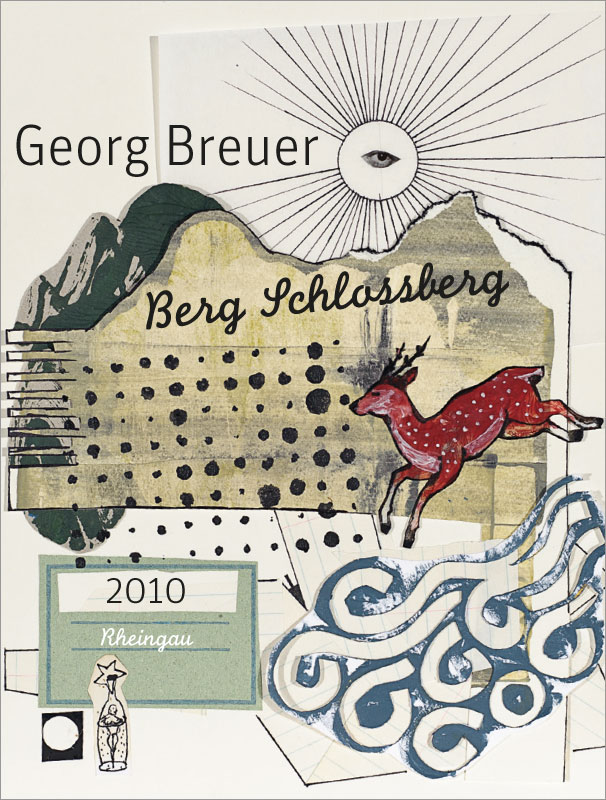 VINTAGE

2010

Tanja Schneider

born 1969 in Ravensburg

Trained in Karlsruhe, the media artist works mainly in the areas of photography and painting, and brings the two together by means of collages.

Creating the label for our Berg Schlossberg 2010, she composed a harmonious impression of the natural world and winemaking, splicing nature and human handiwork.
VINTAGE

2009

José Maria Mezquita Gullón

born 1946 in Zamora, Spain

Mezquita Gullóns artistic work is characterized by an inimitably intense examination of nature and its vegetal structures.

The drawing produced for our label operates with natures' mystic which a winemaker tries to reveal with each vintage anew.
VINTAGE

2008

John Kørner

born 1967 in Aarhus, Denmark

Danish artist John Kørner's work convinces with its playful lightness and a wide range of fantastical and magic motifs. By exhibiting his work in museums and galleries all over the world Kørner has gained international reputation.

For the 2008 label he tried to combine the traditional and modern aspects of wine making and wine culture.
VINTAGE

2007

Marco P. Schaefer

born 1967 in Winnenden

Marco P. Schaefers artistic work includes drawings and cut-outs aswell as sculptural objects. Evoking easiness, ardour and jazziness his works persuade with great formal clearness that results from a joyful use of contrasts and razor-sharp outlines.
VINTAGE

2006

Hide Nasu

born 1950 in Yono, Japan

Hide Nasu lives in Germany since 1977 where he studied at the Kunstakademie Stuttgart and at the Städelschule Frankfurt.

His artistic works are influenced by the asian tradition as well as modern western abstractionism.
VINTAGE

2005

Paul Brand

born 1941 in Solothurn, Switzerland

Brand lives, works and teaches in Norway for many years. He is an artist of many talents: photography, video, installation, sculpture, design and painting. He finds inspiration in mathematical systems.

The label of Berg Schlossberg shows a geometrical, crystal similar figure, based on a magic square.
VINTAGE

2004

Jockum Nordström

born 1963

He gained great international reputation with his playful and dreamy drawings and collages

His works can be found in the collections of

MOMA

/N.Y., the Modern Museum in Stockholm and many more.

Nordström lives and works in Stockholm.
VINTAGE

2003

Joe Stefanelli

born 1921 in Philadelphia

His artwork is characterized as "American Expressionism". He is one of the last still alive members of this direction of art – he is a person of contemporary history.

Joe Stefanelli's paintings are represented in numerous museums and collections.

He lives and works in New York.
VINTAGE

2002

Jan Fabre

born 1958 in Antwerpen

He is one of the greatest Belgian artists of our time. He is recognized as painter, sculptor, choreographer and opera director.

Drawing "pencil and blood".
VINTAGE

2001

Wolfgang Niedecken

born 1951 in Cologne

Former art student and today famous inventor and band leader of

BAP

has created this collage from pieces found on the border of the Rhine River near his hometown Cologne.
VINTAGE

2000

Jan Cremer

born 1940 in Enschede, NL

He is one of the most important contemporary artists of the Netherlands.
VINTAGE

1999

Tom Christopher

born 1952 in California,

USA

He studied at the Pasadena Art Museum and at the Art Center College in California.

His paintings are a powerful explosion of color and light. They are settled somewhere between abstraction and realism.
VINTAGE

1998

Gerd Winter

born 1951 in Groß-Gerau

The artist Gerd Winter from Darmstadt created this painting in 1999.

Gerd Winter is a Städel Meisterschüler and many of his paintings can be obtained at the Barbara von Stechow Art Gallery in Frankfurt.
VINTAGE

1997

Kiddy Citny

born 1957 in Stuttgart

His paintings carry his very personal style of allegories and are often like a rebus.

He received world fame when in 1990 a stone segment of the Berlin-Wall with his painting was exposed at the Museum of modern Art in New York.

He lives in Berlin and Munich.
VINTAGE

1996

Marvin Oliver

He is a native indian from the Quinault tribe, lives in Seattle and is professor of art at the University of Washinton.

He calls his painting "Suncatcher" and expresses the suncatching potential of the Berg Schlossberg vineyard by indian symbolism. The killerwhale representing the courage and the raven intelligence.
VINTAGE

1995

Johannes Maltrovsky-Haider

born 1954 in Eisenstadt

The artist works with very simple creative structures. Seemingly hazards are wanted by determination.

He lives in Siegendorf/Burgenland.
VINTAGE

1994

Birgit Sauer

born 1972

She lives in Siegburg/Burgenland and won the main prize of the

XXI

. graphic biennale in Ljubljana in 1995 for new tendences in graphic art.

Her works set new standards in modern printing graphics.
VINTAGE

1993

Gerhard Fietz

born 1910 in Breslau, died 1997

In 1948 he founded the group "Zen 49".

His works, also those that he created in his old age, are full of intensity and strength.

He lived in Goeddingen.
VINTAGE

1992

Michael Wolff

born 1949 in Romania

He has been living in Mainz for many years now.

Beside his sculptural works, he has created important installations.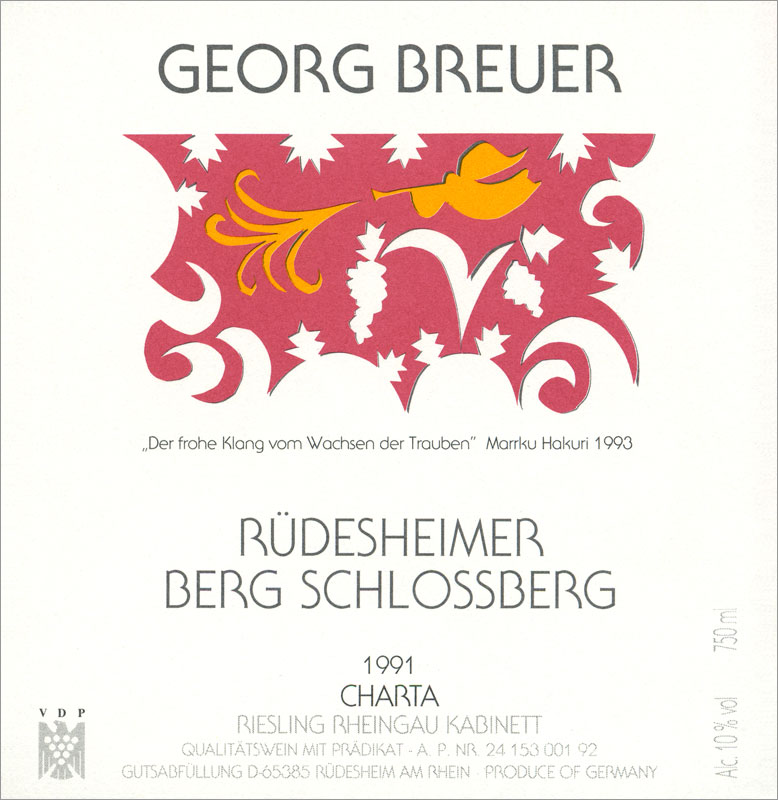 VINTAGE

1991

Marrku Hakuri

born 1946 in Helsinki, Finland

His work is based on a dream of freedom, that is created by tolerance of diversity of perspectives.

Many of his creations draw from the symbolisme of nature.

He named this work "the happy sound of the growing of grapes".
VINTAGE

1990

Heijo Hangen

born 1927 in Bad Kreuznach

He is one of the most important artist of the "constructionisme" and lives near Koblenz.

The label has inspired him to produce the series "Schlossberg Constellations".
VINTAGE

1989

Gabriel Constantinescu

born 1942 in Romania

This painting is a transposition of a sculpture, built in the vineyards of Rüdesheim, but unfortunately destroyed by the action of vandalism. The rythm of the wooden poles and the combination with the vines form an aesthetic moment.

The artist lives close to Hamburg.
VINTAGE

1988

Carl Henning Pedersen

born 1913 in Copenhagen, Denmark

Danish expressionist and co-founder of the "Cobra" (1948).

He is one of the most important scandinavian artists of our times.

In his symbolic view of the world, he confronts reality with fiction.
VINTAGE

1987

Angerer d. J.

born 1940 in Bad Reichenhall

He dedicates his works to "Shadow-Painting".

Naturally existing or technically produced shadows are combined with drawings or paintings.

He lives in Siegsdorf/Bavaria.
VINTAGE

1986

Hella Santarossa

born 1949 in Düsseldorf

Her radical swing towards the sensuality of colours and the spontaneous expression of gestures marks her work.

She lives in Berlin.
VINTAGE

1985

Max Marek

born 1957 in New York

He is the son of the author Kurt W. Ceram and studied in Paris.

In 1983 he became a member of the group X-Stars. Many subjects of his paintings originate from his nightly strolls on the streets of Paris.
VINTAGE

1984

Heinrich Walcher

born 1947 in Wien

He combined his liking for the fantastic with landscape painting.

He lives today in a farm in the state of Kaernten.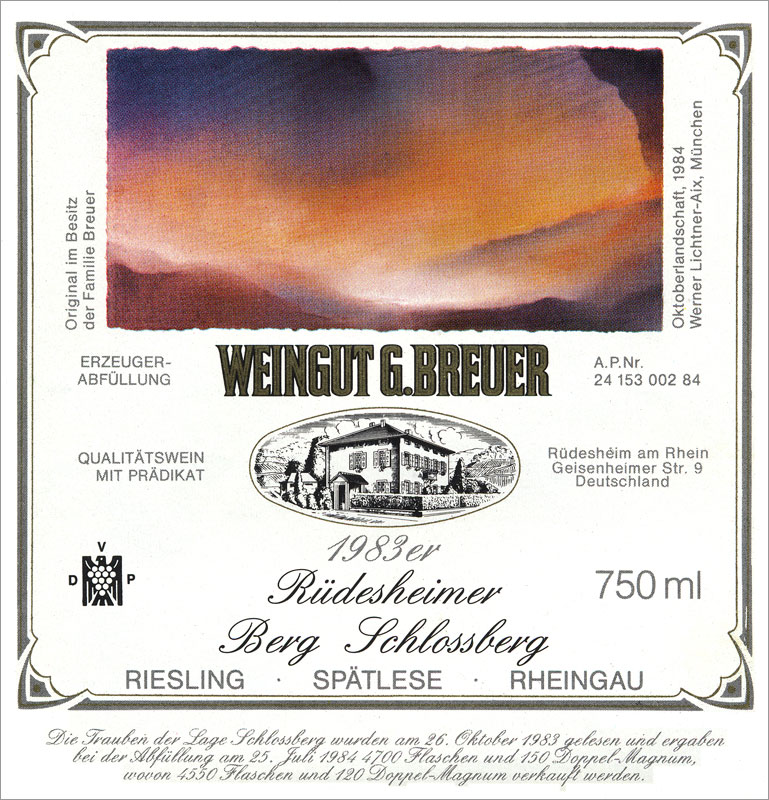 VINTAGE

1983

Werner Lichtner-Aix

born 1929 in Berlin, died 1989

He lived in Provence since 1967.

The experience of the Mistral, which produces a cristal clear sky and makes the original shapes of the earth shine in a new light, has been a source of inspiration for many of his paintings.
VINTAGE

1982

Christiane Maether

born 1941 in Berlin

By her paintings the simple things of daily life become monuments and obtain a new reality.

She works as an art professor in Aachen.
VINTAGE

1981

Waldemar Otto

born 1929 in Petritzau, Poland

He is one of the most important sculptors of our time.

His idea of the moral requirements for the human being form the base for his "sculptures of realisme".

He lives in Worpswede.
VINTAGE

1980

Werner Hilsing born 1938 in Hannover

He is known for his "dream landscapes" and his autobiographical novels. He lives in Berlin.