PROWEIN 2017
Meet us at ProWein 2017 at the shared booth of dieGüter.de (Hall 14/Booth C89). The internationally renowned wine fair ProWein takes place at the Düsseldorf fair area from March 19th to 21st 2017.
We are looking forward to your visit!
Read more about ProWein on www.prowein.de.
JAMESSUCKLING.COM: THE TOP 25 DRY GERMAN RIESLINGS OF 2016
"… One of the producers who would have been on that list of great wines a generation ago is on this list today. I rated the 1990 Berg Schlossberg Riesling from the Georg Breuer estate in Rüdesheim/Rheingau 90-91 points when I first tasted it from cask back in the late spring of 1991. It was made by Bernhard Breuer who died in 2004. The 2015 of the same wine was made by his daughter Theresa and scores a 97 on today's hit list. …"
1. DÖNNHOFF Riesling Nahe Hermannshöhe Niederhausen GG 2015
2. DR. LOOSEN Riesling Mosel Erdener Prälat "GG Reserve" 2012
3. GEORG BREUER Rheingau Riesling Berg Schlossberg 2015
…
Read more on www.jamessuckling.com.
RELEASE 2014 BERG SCHLOSSBERG – ARTIST LABEL KARIN MAMMA ANDERSSON
We are very delighted to annonce that the outstanding swedish artist Karin Mamma Andersson signs responsible for the label of our 2014 Berg Schlossberg.
Karin Mamma Andersson was born in Luleå in 1962 and educated at the Kungliga Konsthögskolan in Stockholm. Her artistic work has amongst others already been shown at the Venice Biennale, the MoMa in New York and the Moderna Museet in Stockholm and is represented by leading galleries worldwide.
Andersson lives and works with her family in Stockholm.
She is married to artist Jockum Nordström who developed the label for our 2004 Berg Schlossberg ten years ago.
Karin Mamma Andersson's artistic oeuvre is characterized by its almost exclusive and therefore complex commitment to painting: the allusive settings and emotionally charged scenarios Andersson creates in her works ladle from the recourse to a wide arsenal of varying painting techniques. Andersson's compositions appear dreamlike and at the same time rooted in daily routines.
For the label of our 2014 Berg Schlossberg the artist created a woodcut – a novelty in Andersson's work. The technique of woodblock printing is a manual cutting resp. printing technique that Mamma Andersson has dealt with since the past year.
When she started developing the label Andersson found an antiquarian book on hunting in the 1930s while researching for another project in parallel. In that book a picture of a "german hare" stroke her eye and she immediately understood that the hare must be the motif for the Schlossberg label: in Andersson's imagination that hare sits high upon the mountain looking down at the vineyards of Rüdesheim.
EVENTS ON THE ESTATE
SEPTEMBER

2016

11.-12.09. –

OPEN

HOUSE

2016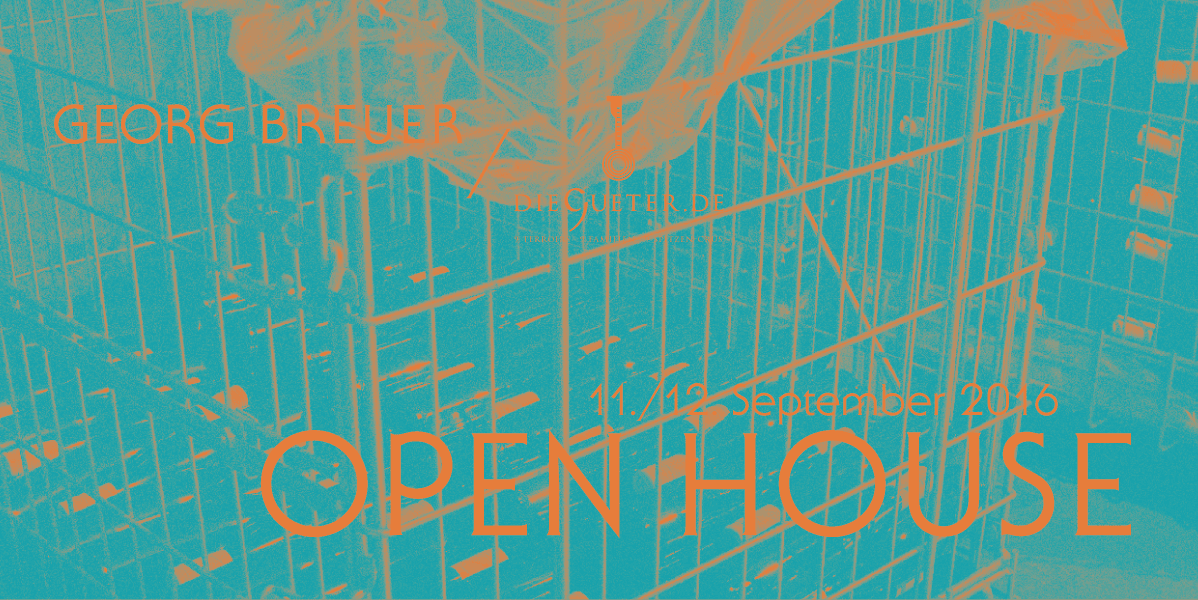 On September 11th from 11 a.m. to 5 p.m. and on September 12th from 1 to 6 p.m.
GEORG
BREUER
opens its' doors for all interested customers and wine enthusiasts.
Together with our colleagues from DIEGUETER.DE (DOMÄNE CASTELL, Franken • DR. BÜRKLIN-WOLF, Pfalz • GRAF NEIPPERG, Württemberg • PRINZ SALM, Nahe • KÜHLING-GILLOT, Rheinhessen • NELLES, Ahr • GLEICHENSTEIN, Baden • REICHSGRAF VON KESSELSTATT, Mosel) we present the Vintage 2015.
If interested in visiting please contact theresa@georg-breuer.com.
GEORG BREUER ON TOUR
FEBRUARY

2017

28.02. – Lobster Lunch, Rheingau Gourmet Festival, Kronenschlösschen Hattenheim

www.rheingau-gourmet-festival.de



MARCH

2017

3.03. – Sparkling Wine Dinner, Rheingau Gourmet Festival, Kronenschlösschen Hattenheim

www.rheingau-gourmet-festival.de

4.03. – FAZ Favorites, Lunch, Rheingau Gourmet Festival, Kronenschlösschen Hattenheim
www.rheingau-gourmet-festival.de

11.03. – Universum Edeka Ultzerhöfer Heilbronn, Tasting

11.03. – Thai-French Lunch, Rheingau Gourmet Festival, Kronenschlösschen Hattenheim
www.rheingau-gourmet-festival.de

18.03. – Falstaff Big-Bottle-Party, Düsseldorf
www.falstaff.de

19.-21.03. – ProWein, International Trade Fair, Düsseldorf
www.prowein.de

27.03. – table, Tasting at WineBank, Hattenheim
www.winebank.de/rheingau

29.03. – Menu Evening at Restaurant Kochs, Garmisch Partenkirchen
www.kochs-garmisch.de



APRIL

2017

1.04. – Wine Evening, Grothues, Senden

www.hof-grothues-potthoff.de

2.04. – Wine Brunch, Poletto Weinbar, Hamburg
www.poletto-winebar.de

9.04. – Summa, Weingut Lageder, Südtirol
www.summa-al.eu

28.04. – Speeddating, Tasting Kölner Weinkeller, Köln
www.koelner-weinkeller.de

29.04. – Menu Evening, "Schiffchen", Offenbach
www.schiffchen.eu



MAY

2017

7.05. – Tasting of Young Wines at Weingut Gleichenstein, Oberrotweil

www.gleichenstein.de

20.05. – Distribution Fair at Kölner Weinkeller, Köln
www.koelner-weinkeller.de

20.05. – Menu Evening, Schloss Hugenpoet, Essen-Kettwig
www.hugenpoet.de

21.05. – Wine Market at Kempinski Grevenbruch
www.kempinski.com

25.05. – Zeilensprung, Garden Party at Weingut Sohns, Geisenheim
www.weingut-sohns.com



JUNE

2017

3.06. – Vintage Tasting at Weingut Katharina Wechsler, Westhofen

www.weingut-wechsler.de

10.06. – Zeilensprung, Boat Party
www.zeilensprung.com